In Sweden, there are high demands on ventilation systems in buildings. A good air environment prevents headaches, fatigue, irritation and bad odors. The Swedish National Board of Housing, Building and Planning's requirement for air flow is 0.35 liter per second, per square meter. When no one is at home, the flow may be reduced to 0.1 liter per second. However, the rules are general for a building and do not take into account how the rooms are used. In practice, this means that, for example, a bedroom may have too little ventilation when more people than expected sleep there or that rooms where no person is currently staying are over-ventilated.
As ventilation systems use a large amount of energy, it is important that the systems are designed in such a way that they are used optimally. Room heating and air conditioning account for 27% of energy use in commercial properties and 43% in residential buildings.
– The problem is often that the ventilation system operates with overcapacity and at the wrong hours. One third of the 24 hours a home is often empty and the family is away at school or work. If ventilation goes to full effect during this time, energy is wasted completely unnecessarily, says Jonn Are Myhren at Healthy Homes (top image) that has developed a solution to meet this challenge.
Healthy Homes has developed a ventilation system that can control ventilation based on the needs that exist in each room during different parts of the day. A Healthbox is installed that controls the ventilation with timing or sensors that detect carbon dioxide, moisture and odor from each room. The flow goes down when there is no presence and energy is saved. For example, in the morning when using the bathroom, shower and kitchen the ventilation is increased. In daytime, if no one is at home, the ventilation is reduced and increased in bedrooms at night."
The system can run on automatic or user surveyed. With an app the actual levels of temperature, moisture, CO2 and ventilation activity can be monitored. The active user can adjust and personalize/maximize the benefits via the app. For the more passive user an easy filter exchange once a year is all maintenance that is needed.
The solution has been installed in family homes with good results. The EFFECT4buildings project wanted to test the solution in an apartment building since energy saving potential seems very high. The purpose of the pilot was to investigate whether a new ventilation system for apartment buildings could make energy consumption more efficient while at the same time a high indoor comfort could be obtained.
One building owner in the stakeholder network in Dalarna, Nordhemsstigen, provided the project with a suitable building that anyhow was renovated. The County Board of Dalarna granted finance for the investment and the pilot was monitored and evaluated in a degree thesis in construction for Bachelor of Science in Engineering.
The method was to install a demand-controlled zone ventilation system in the apartment and measure air quality, air temperature and air flow rate with the help of sensors.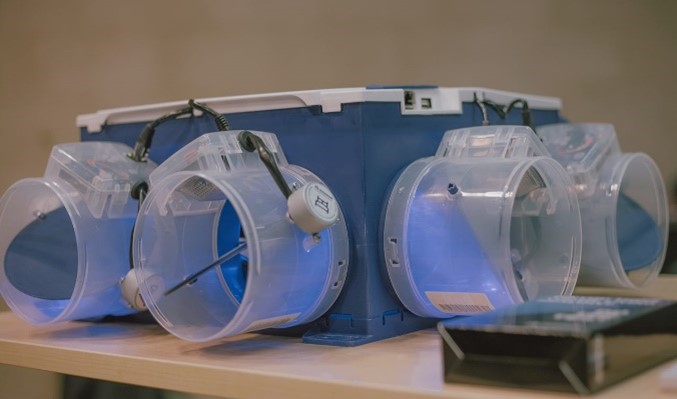 The Healthbox unit is connected to each room by air channels and sensors.
The new ventilation system was compared with two common ventilation strategies; extract air and natural ventilation. Carbon dioxide levels, air humidity and temperature was monitored and evaluated.
The measurement data shows that the demand-controlled ventilation system in most cases reaches the recommendations while the energy demand is lower. The demand controlled zone ventilation system resulted in 28 litres per second, compared to 35 litres per second for ordinary systems.
CO2 levels in bedrooms were exceeded with standardized ventilation systems when the bedroom door was closed, since exhaust valves are placed in bathrooms and kitchens. Natural ventilation is a good system to reduce energy use, but the pilot shows that the CO2 recommendations could not be met all times of the day.
An important conclusion from the degree thesis was that ordinary ventilation strategies such as natural draft and exhaust air give a worse indoor climate compared to the demand-controlled system.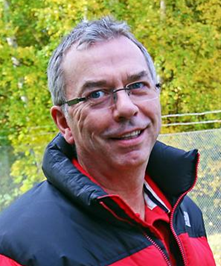 – I find this technology fantastic, says building owner Stig Hjalmarsson from Nordhemstigen real estate company in Hedemora, Dalarna.
It is not often that you can increase indoor climate quality at the same time as reducing energy use, but with demand controlled zone ventilation it is possible.
A good thing is also that it is possible to force the ventilation to increase when more people are present in a room. Ordinary ventilation systems are less flexible and most often there is only exhaust air diffusers in the kitchen and bathrooms. I would like all ventilation systems to have ventilators in all rooms.
I have not yet evaluated the profitability of investing in the system, but I am sure that I will go ahead and try to get the technology installed in more of our buildings.
About EFFECT4buildings:
EFFECT4buildings is implemented with the support from Interreg Baltic Sea Region Program 2014-2020 (European Regional Development Fund) and Norwegian national funding. The aim of the project is to improve the capacity of public building managers in the Baltic Sea Region by providing a comprehensive decision-making support toolbox with a set of financial instruments to unlock the investments and lower the risks of implementing energy efficiency measures in buildings owned by public stakeholders. For more information: http://www.effect4buildings.se
Text author: Marit Ragnarsson, EFFECT4buildings Project Manager, Länsstyrelsen Dalarnas län