In 2019, a total of 21 educational institutions from 8 municipalities of Vidzeme Planning Region (VPR) tested the green lease agreement in their schools, participating in the school competition "Efficient energy consumption in educational institutions". Schools committed to reducing their school's energy consumption by changing their habits and introducing regular energy-saving measures.
The aim of the program was to promote rational energy consumption in the municipalities of VPR by motivating educational institutions to cooperate with their municipalities and to involve students in reducing wasteful energy costs. Educational institutions mainly competed with themselves to achieve energy savings, but healthy competition was also created by having a school top. VPR made an agreement with local governments and educational institutions that most of the achieved cost savings will be used for school needs.
At the beginning of the competition, each participating school and local government submitted energy consumption data for 2017 and 2018 to the VPR, which allowed to determine the baseline for future calculations. Because of the changing weather conditions, VPR also collected data on energy consumption each year, and on climatic conditions – outdoor air temperature and number of heating days.
"For example, heat consumption has been compared to what it would have been if the climate had been identical in all years, in other words, the data have been adjusted to the same climatic conditions," adds Jānis Ikaunieks, Energy Efficiency Expert of VPR.
In order to motivate students to become knowledgeable and responsible energy users, as well as to support teachers and other school staff, a team of experts from VPR developed a study material on 10 topics:
Energy consumption in buildings
Heating
Electricity
Types of energy
Climate change
Lighting
Ventilation
Water

Each member school received monthly learning materials for students and support materials for teachers during the program.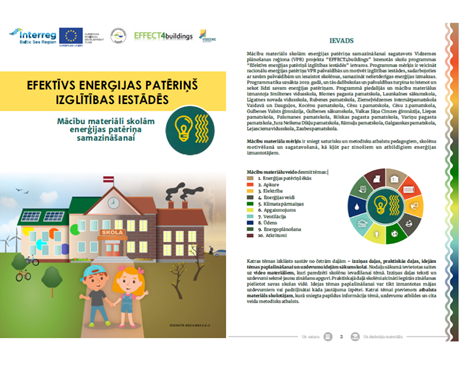 Study materials in Latvian are available here:
http://jauna.vidzeme.lv/upload/EFFECT4buildings/Efektivs_energijas_paterins_izglitibas_iestades.pdf
"Teaching materials are mainly intended for students in the primary school stage, but they can also be adapted for students of other ages. The place and time of using the materials in the teaching process is chosen by the teacher. Most of the topics fit into classroom lessons, natural sciences, physics, social sciences, but some topics can be used in biology, geography, home economics, technology and other subjects, as well as other school activities," explains Ingūna Irbīte, VPR expert in preparing the study material.
Reduction of energy consumption in schools during the program
In the group which collected data on both consumed electricity and heat, the 1st place was won by Kocēni Primary School of Kocēni district, reducing energy consumption (electricity and heat) by 18.52% in 2019. In the group where schools counted only electricity consumption, Bilska Primary School of Smiltene region took the honorable 1st place with a reduced energy consumption of 14.91%.
Top photo: Award ceremony in Kocēni municipality
About EFFECT4buildings:
EFFECT4buildings is implemented with the support from Interreg Baltic Sea Region Program 2014-2020 (European Regional Development Fund) and Norwegian national funding. The aim of the project is to improve the capacity of public building managers in the Baltic Sea Region by providing a comprehensive decision-making support toolbox with a set of financial instruments to unlock the investments and lower the risks of implementing energy efficiency measures in buildings owned by public stakeholders. For more information: https://www.effect4buildings.se
Authors: Baiba Šelkovska and Rūta Ročāne, Vidzeme Planning Region, Latvia