New guidelines for light, acoustics and air have been developed by the EFFECT4buildings project in Dalarna in cooperation with experts from White Architects, Saint Gobain and By Demand.
The purpose of the new guide is to provide assistance in the day-to-day work of building managers in their planning, procurement and follow-up of projects.
The guidelines show how good light, acoustics and air quality can be achieved when new schools are built or when schools are renovated.
Project manager Marit Ragnarsson from the County Administrative Board of Dalarna gives a background to the initiative:
Today, people spend more and more time indoors. On average more than 21 hours in a day1. The quality of the indoor environment is extremely important for our health, and for our ability to focus and work effectively. This is extra important in schools and pre-schools. Healthy stu­dents need a healthy school environment.

We discovered early a need in our target group to get answers for the following questions:
How can we build smart and have both energy efficiency, health and well-being in mind?
How can we increase innovation and use the latest knowledge, among real estate companies and politicians, when procurement is prepared for rebuilding and new constructions?
Energy and good indoor climate are closely related. By counting more added values that you can get through an investment, the motivation to make the investment increases.
The schools of the future
Existing schools and schools of the future require varied learning environments and flexible room usage.
The guide gives examples of co-usage and how we can build with flexibility.
It is common to have more or less open areas designed for individual focus work and/or working in groups. The requirements will need to be further tightened up in order to achieve environments that are sustainable from a climate perspective, while also supporting healthy and toxins-free indoor spaces.

Facts about the guide
The guide focuses on Light, Acoustics and Air
Within each area guidelines are presented for:
The value of good quality
How good environments are achieved – technical aspects
Specification of requirements during procurement
Evaluation and follow-up
Laws, regulations, and guidelines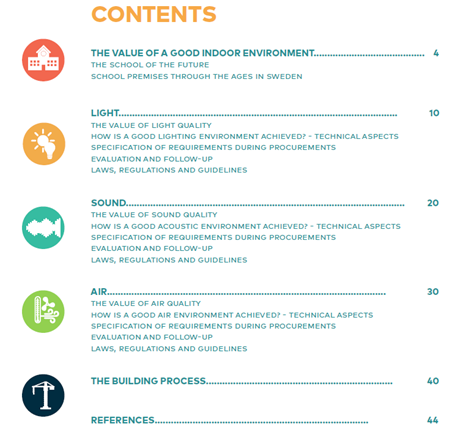 Technical aspects and specifications for procurements are described both for new constructions and refurbishment.
Other chapters are: The school of the future, School premises through the ages and a short chapter about The building process.
For more information, send mail to: marit.ragnarsson@lansstyrelsen.se
About EFFECT4buildings:
EFFECT4buildings is implemented with the support from the Interreg Baltic Sea Region Program 2014-2020 (European Regional Development Fund) and Norwegian national funding. The aim of the project is to improve the capacity of public building managers in the Baltic Sea Region by providing a comprehensive decision-making support toolbox with a set of financial instruments to unlock the investments and lower the risks of implementing energy efficiency measures in buildings owned by public stakeholders. For more information: http://www.effect4buildings.se
Text author: Hans Ahlin, EFFECT4buildings, Länsstyrelsen Dalarnas län
1 Bluyssen, P.M. The Indoor Environment Handbook How to Make Buildings Healthy and Comfortable. London, Earthscan, 2009, 95