​The autumn, winter and spring months are the ones where we stay the most time indoors. During this time, children attend school, so the good indoor climate is one of the most important factors in classrooms. In Valmiera a discussion on indoor climate was held, with a particular focus on educational institutions. The discussion was organized together with buildings managers from several Vidzeme municipalities and Effective Financing Tools for implementing Energy Efficiency in Buildings (EFFECT4buildings) project partners from Latvia, Norway, Sweden, Denmark, Finland, Poland and Estonia.
A good indoor climate determines how good or bad a person feels in a room. Good indoor climate includes several aspects: comfortable indoor air temperature/thermal comfort, lighting, acoustic comfort/noise, indoor air quality (CO2 concentration in the room), possibility to individually regulate indoor air climate, other pollutants such as dust, volatile organic compounds presence in the air etc. Gatis Žogla, Professor at the Riga Technical University, showed an example of a school in Latvia, where CO2 level was measured in one classroom with 25 students. Size of the classroom was 10x5x3,5 m. According to CO2 meter results in the classroom the air change rate should be increased 43 times. This means that air exchange needs to be significantly improved in the classroom to ensure a safe CO2 level for students in the room.
Liv Randi Lindseth presented findings of several researches about indoor climate and energy use in Norwegian schools on behalf of Hedmark County Council in Norway.. Good public health is laid in childhood. Children are more sensitive groups for exposure to air pollutants, and later respiratory diseases, such as asthma, can be linked to poor indoor climate in school and kindergarten. In addition, in such circumstances, student's learning abilities and well-being are affected. Liv R. Lindseth also drew attention to teachers and other school staff who are also exposed to health problems and incapacity for work – sick leaves. Matti Pylkkö from the Environmental office of Lappeenranta region in Finland, also highlighted the impact of poor indoor climate on teacher's health, mentioning insufficient indoor air exchange, excessive noise levels in school buildings, and inadequate indoor humidity levels.
"We need the right light at the right place at the right time to support our activities," said Marit Ragnarsson, County Board of Dalarna in Sweden. M. Ragnarsson emphasized the role of lighting on the well-being of the person and the rhythm of the day. Light is the most important timer for our internal clock, so the light should be adjusted to specific hours of the day and certain activities. Most of the lighting should be daylight. The natural light gives us energy and at the same time saves energy from the electricity lighting. The spectrum of light should follow the natural day's light cycle – in the morning, cool light with high intensity, in the afternoon – white light with high intensity, and in the evening – warm light with low intensity. Warm light is equivalent to the sunshine light, which indicates that the evening is coming, and we need to have a rest. In schools light should be adapted to children's needs and activities. A monotonous lighting is tiring and reduces experiences. When planning renovation works, building managers should keep in mind that energy efficiency solutions could be purchased as whole solution and not only single equipment. For example, when buying lighting with the primary purpose of saving electricity, the same procurement can also provide options for lighting control and other features that could improve the indoor climate.
Studies on indoor climate in educational institutions have also been conducted in Latvia. One of them is the Study on Environmental Quality and Safety of Educational Institutions conducted by the Ministry of Health of the Republic of Latvia. Between October 2, 2017 and March 29, 2018, 20 Latvian schools were surveyed. The study concluded that the quality of ventilation in the schools is partly in line with the World Health Organization recommended standards. The existing type of ventilation or the ventilation regime that has been implemented is partly able to maintain the health and safety of indoor air. Find out more about the research: http://www.vi.gov.lv/lv/vides-veseliba/gaiss/iekstelpu-gaiss
To familiarize the EFFECT4buildings project partners with Latvia's experience in building renovation and used technological solutions, Vidzeme Planning Region together with Cesis, Smiltene and Valmiera municipalities organized experience exchange visits in several buildings. Including the Cesis City Pastarina Primary School, which in January 2018 completed renovation work that was carried out in accordance with the principles of a low-energy building.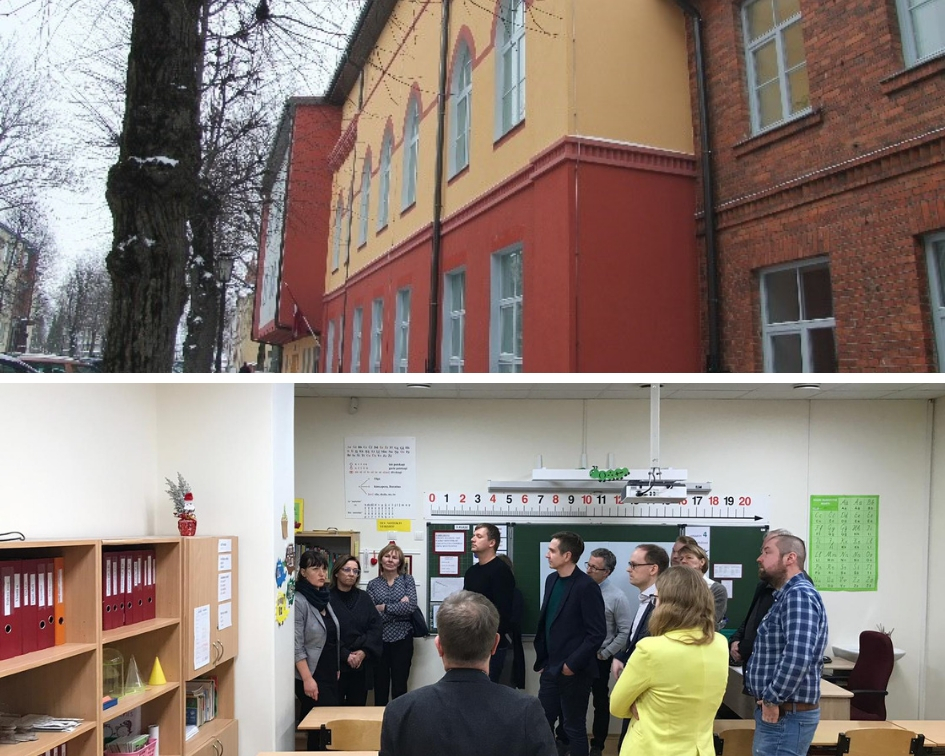 In Smiltene Energy Manager Andris Jaunpetrovics told about energy management in Smiltene municipality, and EFFECT4buildings team visited multi-family apartment building in Smiltene. Previously, this building was unfinished for several years and before the construction works it looked like this: https://www.ziemellatvija.lv/novadu-zinas/smiltene/jaunbuves-ipasniekam-smiltene-merki-neistenojas-tapec-grib-sadarboties-ar-pasvaldibu-16883
Together with Valmiera city building manager Kaspars Kalniņš EFFECT4buildings team visited social house in Valmiera city. The building was rebuilt so that people from different social groups could live there. Solar collectors are located on the roof of the building to provide hot water throughout the year.
In addition, there was an opportunity to look at the recently opened Valmiera Swimming Pool, where the heat recovery technology is used for the day-to-day operation of the swimming pool.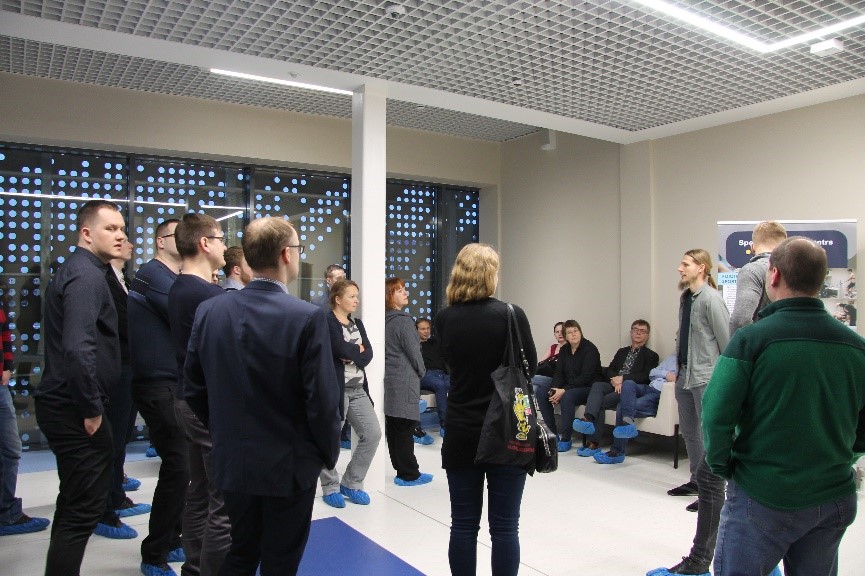 This was already the fifth project EFFECT4buildings transnational working group meeting. Discusion in Valmiera was held on February 27, 2019. EFFECT4buildings is implemented with the support from the Interreg Baltic Sea Region Program 2014-2020 (European Regional Development Fund) and Norwegian national funding. The aim of the project is to improve the capacity of public building managers in the Baltic Sea Region by providing a comprehensive decision-making support toolbox with a set of financial instruments to unlock the investments and lower the risks of implementing energy efficiency measures in buildings owned by public stakeholders. For more information: http://www.effect4buildings.se
Follow us on Twitter @EFFECT4building
Contact: Baiba Norberte, Communication manager, Vidzeme Planning Region, e-mail: baiba.norberte@vidzeme.lv